During the high-stakes World Cup final between India and Australia at the Narendra Modi Stadium in Ahmedabad, an unexpected incident occurred.
A pro-Palestine pitch invader breached the stadium's security, causing a significant interruption during India's innings.
Invader Reaches Virat Kohli
The invader, identified as Wayne Johnson, an Australian of Chinese-Filipino origin, managed to reach Indian cricket star Virat Kohli before being apprehended.
The incident took place just before the first drinks break, catching players and spectators off guard.
Clothing with a Message
Johnson was wearing a face mask adorned with the Palestine flag and a T-shirt with slogans "Stop bombing Palestine" and "Save Palestine."
His attire clearly conveyed a political message, which is against the International Cricket Council's (ICC) regulations prohibiting political protests at cricket games.
The Aftermath of the Incident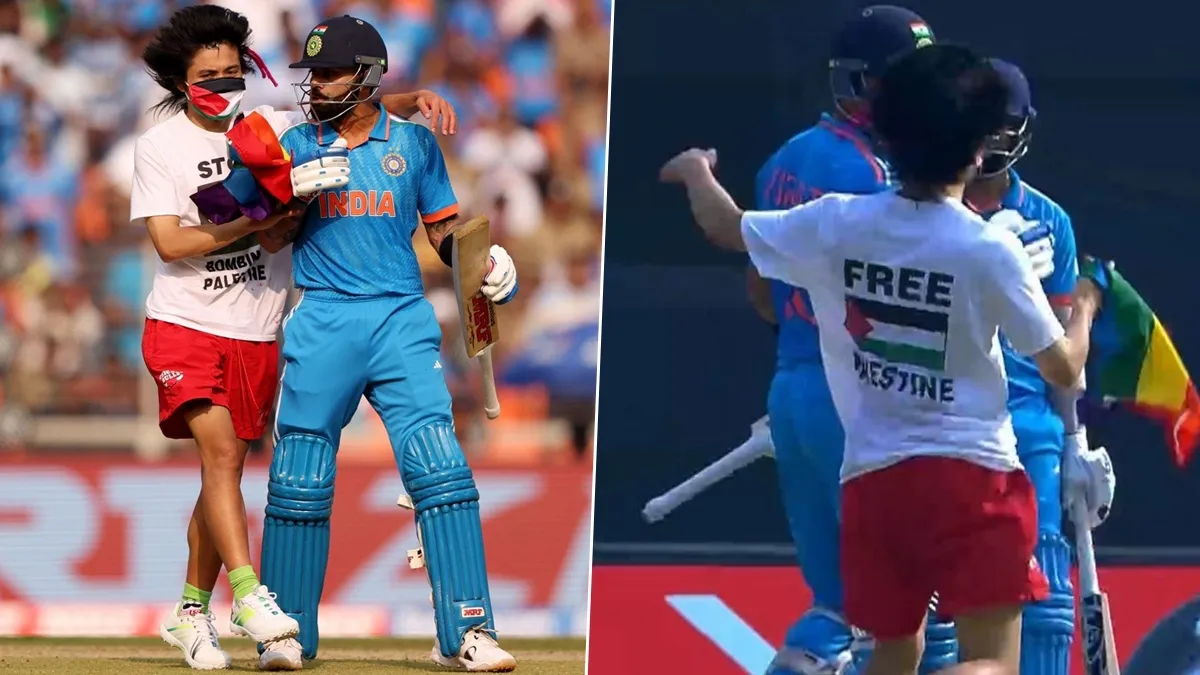 Following the breach, Johnson was arrested and taken to Chand Kheda Police station in Ahmedabad.
Given that Johnson is a foreign national, the nature of the legal actions to be taken against him remains uncertain.
Security Concerns Raised
This incident raises questions about the effectiveness of security measures at major sporting events.
The ease with which Johnson breached the security cordon and reached a high-profile player like Kohli is alarming.
Political Expression in Sports
The incident also ignites a debate on the place of political expression in sports.
While the ICC has clear policies against such acts, the occurrence highlights how sports can become a platform for political statements.
International Relations and Sports
The incident may also have implications for international relations, especially considering the sensitive nature of the Israel-Palestine conflict.
The reaction of the cricketing community and international bodies will be closely watched.
In conclusion, the pro-Palestine pitch invasion at the World Cup final not only disrupted a major sporting event but also brought to the forefront issues of security, political expression in sports, and the intersection of international relations and athletics.
The response of the authorities and the ICC will be pivotal in addressing these concerns and preventing similar incidents in the future.