As the journey of the 2023 ODI World Cup continues to captivate cricket enthusiasts worldwide, South Africa has undeniably emerged as a powerhouse.
Their consistent and outstanding performances have not only caught the attention of many but have also set the tone for what promises to be a thrilling conclusion to the tournament.
South Africa's Power Duo: de Kock and Klaasen
In the midst of the Men's 2023 ODI World Cup, cricketing nations are clashing head-to-head, each vying for the coveted top spot.
Among these contenders, South Africa has risen prominently, especially evident in their recent face-off against Bangladesh.
Leading the charge for South Africa were Quinton de Kock, who delivered a masterclass with a stellar 174 off just 140 balls, and Heinrich Klaasen, who unleashed a whirlwind 90 from a mere 49 deliveries. Together, they propelled South Africa to an imposing total of 382 runs.
Faced with this challenging score, Bangladesh could only muster 233, allowing South Africa to seal a dominant victory with a margin of 149 runs.
Unprecedented Achievements by the Proteas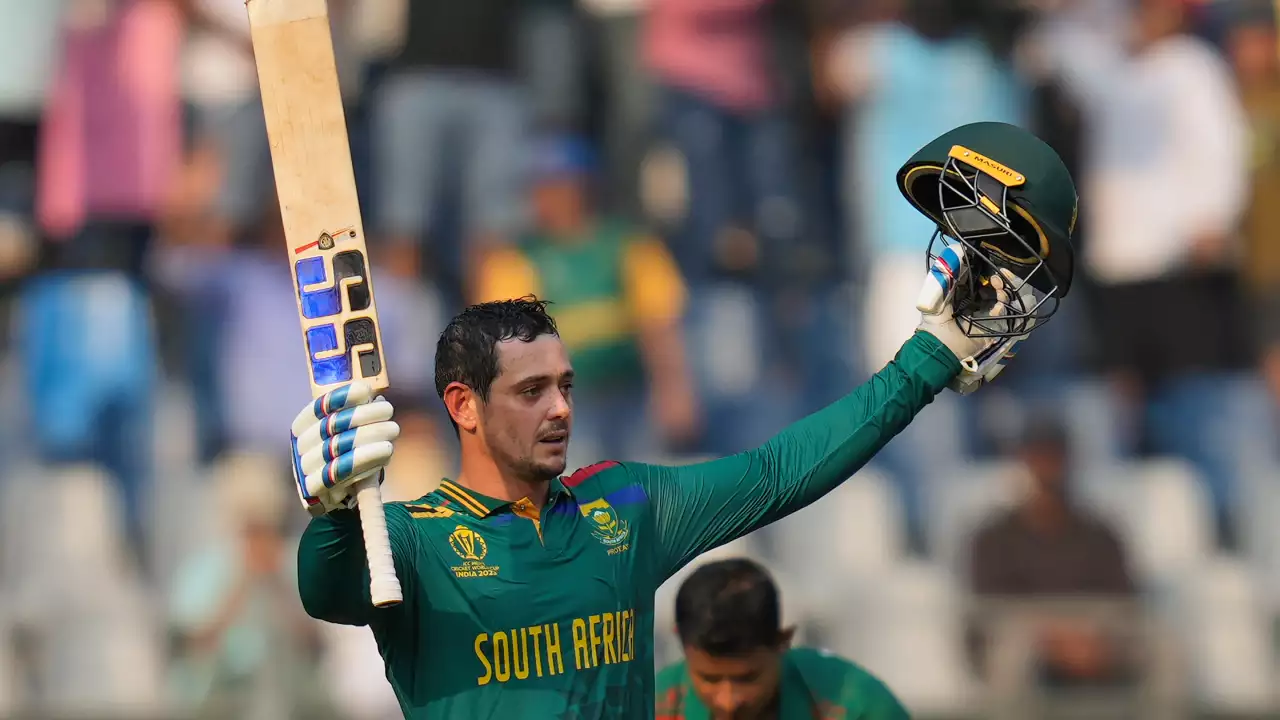 The World Cup stage has been graced by South Africa's exceptional cricketing prowess. Their batting lineup has been particularly dominant, registering the three highest totals of the tournament, one of which surpassed the formidable 400-run threshold.
It's noteworthy that out of the 19 centuries scored in this World Cup edition, South African batsmen have been responsible for a staggering six.
Quinton de Kock, who has been a beacon of consistency, not only tops the run-scoring list but also boasts the highest individual score of the tournament.
During his landmark 150th ODI appearance, de Kock crafted a splendid innings of 174 runs, inching closer to Gary Kirsten's national record.
Given his current form and the zeal with which he plays, the prospect of him achieving a double century in the near future seems highly plausible.
Anticipated Thrills and Twists
Even as South Africa continues to bask in the spotlight, rival teams are strategizing to pose a formidable challenge.
The Netherlands, with its ties to Australian cricket, is on the hunt for another monumental victory, especially after their impressive win against South Africa.
On the other hand, Australia is keenly intent on maintaining their momentum. They are well aware of the potential of the Dutch side and are determined not to underestimate them.
This World Cup edition has already thrown a few curveballs, a prime example being Afghanistan's surprise triumph over Pakistan.
The global cricketing community is on the edge of their seats, anticipating more edge-of-the-seat encounters and iconic moments as the tournament progresses.