Mohammed Siraj suffered an injury, after the clash between India and Netherlands. As they gear up for the semifinal against New Zealand, how will this affect their strategy?
---
Injury Concern for Mohammed Siraj: A Potential Setback for Team India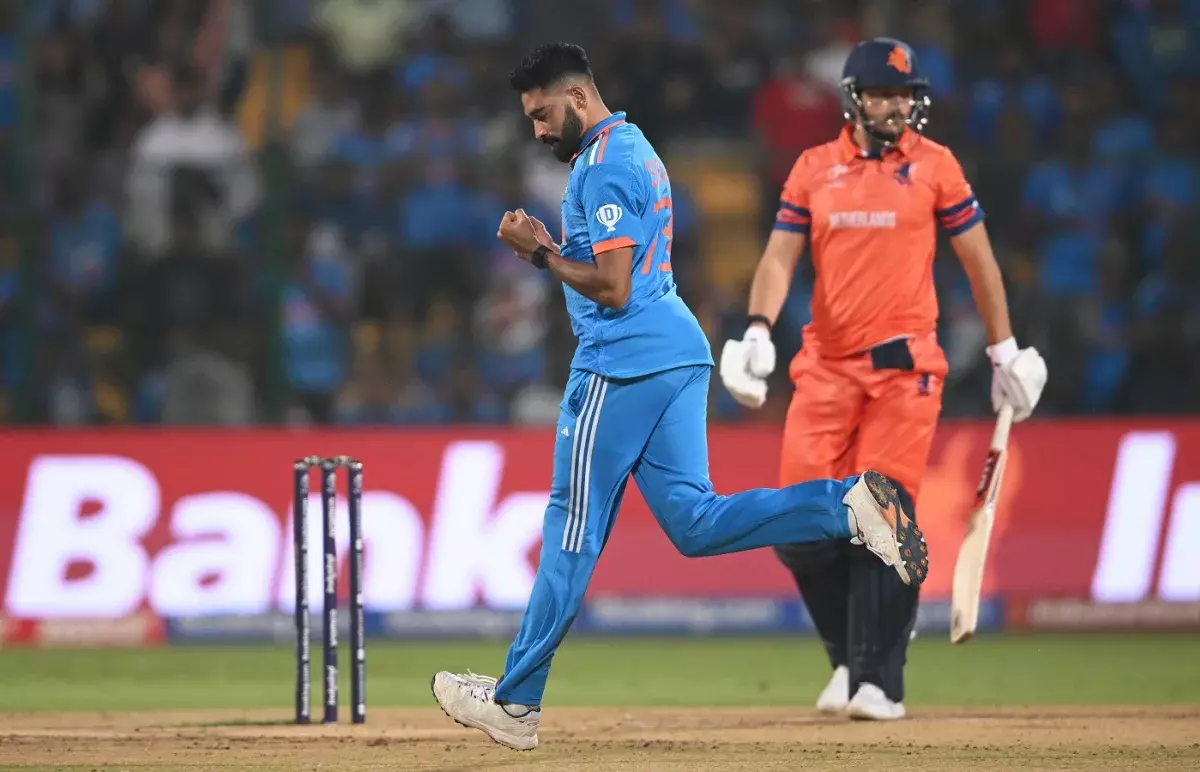 Mumbai, November 13, 2023 – In a recent development that has caused a stir in the cricketing world, Team India faces a significant challenge ahead of their crucial World Cup semifinal against New Zealand.
Mohammed Siraj, a key player in India's bowling lineup, suffered an injury during the team's final league match against the Netherlands, raising concerns about his availability for the upcoming game.
The Incident and Its Aftermath
The incident occurred at the M Chinnaswamy Stadium in Bangalore, where Siraj, while attempting a catch, was struck in the throat area by the ball.
This unfortunate event forced him to leave the field, casting doubts over his participation in the much-anticipated semifinal at Mumbai's Wankhede Stadium.
The Implications for Team India
Siraj's potential absence could be a significant blow to the Indian team, which has been relying on his consistent performance with the new ball.
The timing of the injury, with a short interval before the semifinal against New Zealand, adds to the team's predicament.
The possibility of altering their winning combination, especially in such a high-stakes match, is something the Indian team management would be keen to avoid.
The Performance in the IND vs NED Match
Despite the setback, Team India showed commendable performance against the Netherlands.
With notable contributions from Rohit Sharma, Shubman Gill, Virat Kohli, Shreyas Iyer, and KL Rahul, India posted a formidable score.
Siraj's early breakthrough was crucial before the injury incident, demonstrating his value to the team.
Kohli's Unexpected Role
In an interesting turn of events, Virat Kohli, primarily known for his batting prowess, took over some bowling responsibilities in Siraj's absence.
Kohli's stint as a bowler not only compensated for the overs but also brought a wicket, much to the delight of the fans.
Looking Ahead
As the cricketing community awaits further updates on Siraj's condition, the focus shifts to how Team India will adapt to this unforeseen challenge.
The situation underscores the unpredictability and dynamic nature of the sport, where teams must be prepared for any eventuality.
---
The injury to Mohammed Siraj is more than just a physical setback for a player; it is a test of Team India's resilience and adaptability.
As they gear up for the semifinal against New Zealand, the question remains: How will this affect their strategy and morale? Only time will tell if this incident becomes a defining moment in their World Cup journey.