As the Netherlands squared off against Australia in Delhi, all eyes were on the enthralling match-up, but it was Bas de Leede's performance that stole the headlines for unexpected reasons. He break a record that no bowler would ever desire.
---
Unfortunate Bowling Record by Bas de Leede: A Day to Forget in World Cup 2023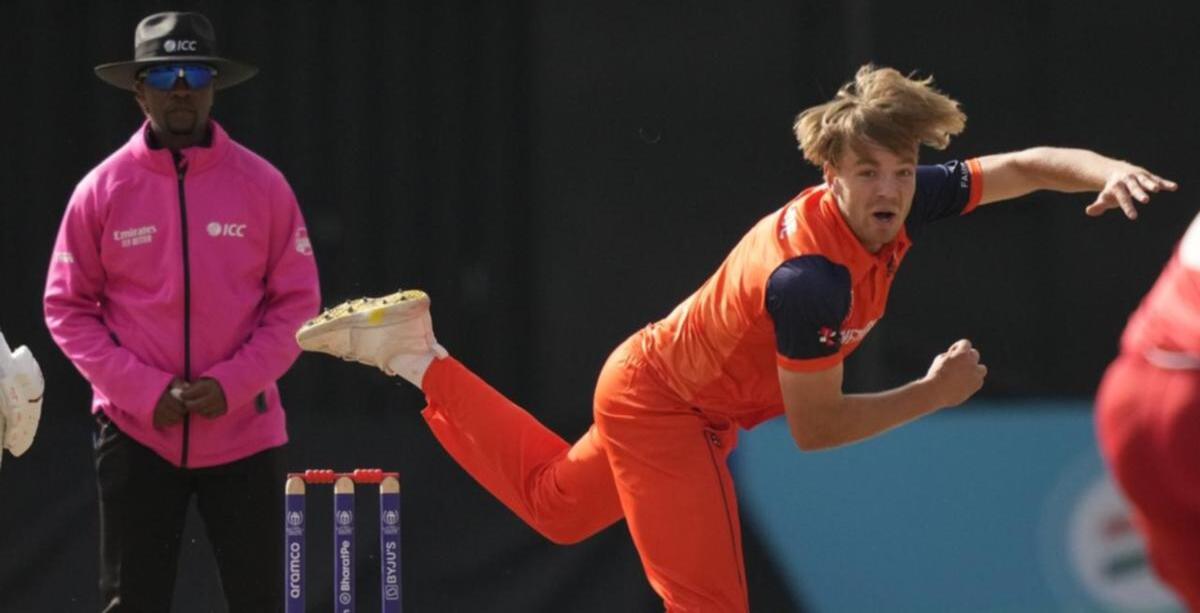 In the realm of sports, records are often celebrated, but not all records bring joy. But, Netherlands' Bas de Leede found himself on the wrong side of history.
During the 24th match of the ICC Men's World Cup 2023 between Netherlands and Australia on October 25 in Delhi.
Bas de Leede break the record as the most expensive bowling spell in the history of ODI cricket, conceding a staggering 115 runs in his 10 overs.
---
Previous Record Holders
De Leede's unfortunate record surpassed the previous benchmark set by Australia's Mick Lewis during the iconic South Africa vs. Australia ODI in 2006 in Johannesburg.
In that high-scoring encounter, both teams surpassed the 400-run mark. Earlier this year, Adam Zampa equaled this record against South Africa.
De Leede's spell was particularly marred by a 28-run 49th over against Glenn Maxwell, who achieved the fastest World Cup century, breaking Aiden Markram's previous record.
---
The Match Overview
Despite the challenging day for de Leede, the match itself was a spectacle. Australia, after opting to bat first, amassed a colossal total of 399/8 in their 50 overs.
This was primarily due to Glenn Maxwell's rapid century and David Warner's 93-ball 104. In response, the Dutch team was bundled out for a mere 90 runs.
Silver Linings
While de Leede's spell was costly, it wasn't devoid of moments to cherish. He managed to claim the wickets of Marnus Labuschagne and Josh Inglis.
Moreover, he came close to dismissing David Warner, but a decision in Warner's favor by the third umpire ensured the Australian opener went on to score a century.
In Perspective
Cricket, like life, is full of ups and downs. While de Leede's performance on that day might not be one he looks back on fondly.
It's essential to remember that every player has off days. The true testament to a player's character is how they bounce back from such setbacks.
---
In conclusion, while records like these might not be celebrated, they are a part of the rich tapestry of the sport.
How will de Leede respond in the upcoming matches? Will he use this as motivation to come back stronger? The World Cup 2023 still has many games left, and only time will tell.