The world of cricket witnessed a monumental occasion as three of its most celebrated figures, Virender Sehwag, Diana Edulji, and Aravinda de Silva, were inducted into the prestigious ICC Cricket Hall of Fame.
This induction, announced on November 13, 2023, marked a significant recognition of their exceptional contributions to the sport​​.
Virender Sehwag: A Trailblazing Indian Opener
Virender Sehwag, a former swashbuckling opener for India, is renowned for his aggressive batting style and remarkable achievements in international cricket.
His career spanned from 1999 to 2012, during which he played 104 Tests, 251 ODIs, and 19 T20Is.
Sehwag's fearless approach to batting, often setting the tone for the innings at the top, has left an indelible mark on the sport​​​​.
Diana Edulji: Pioneering Women's Cricket in India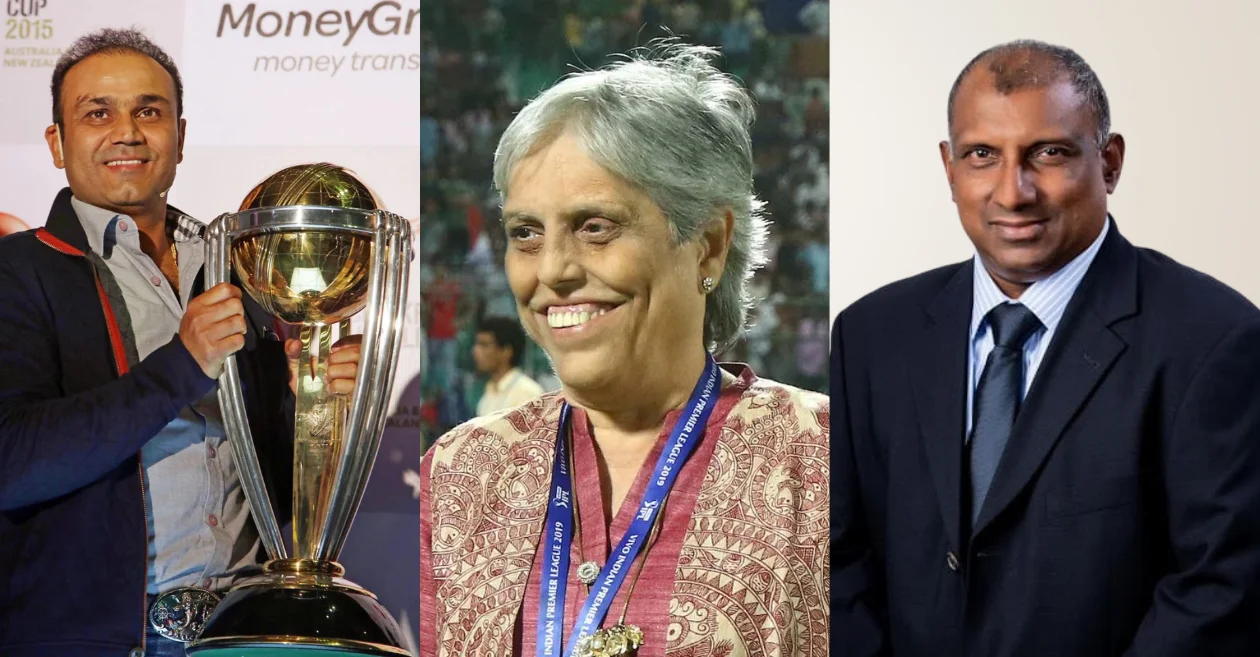 Diana Edulji's induction is a groundbreaking moment, as she becomes the first Indian woman cricketer to receive this honor.
As a former captain of the Indian women's cricket team, Edulji's leadership and performance have been instrumental in elevating women's cricket in India and across the globe.
Her trailblazing journey has inspired countless young girls to pursue cricket professionally​​​​.
Aravinda de Silva: Sri Lanka's Cricket Maestro
Aravinda de Silva, a name synonymous with Sri Lankan cricket, has been a key player in some of Sri Lanka's most memorable victories, including their 1996 World Cup win.
His versatile batting and strategic acumen on the field have made him a legend in his own right. De Silva's contributions have not only uplifted Sri Lankan cricket but also enriched the sport internationally​​​​.
The ICC Hall of Fame: A Testament to Cricketing Greatness
The ICC Hall of Fame serves as a testament to the exceptional skill, dedication, and impact these players have had on cricket.
The inclusion of Sehwag, Edulji, and de Silva as inductees numbers 110, 111, and 112, respectively, highlights their extraordinary careers and the legacy they leave behind​​​​.
Recognizing Excellence
The induction ceremony is more than just an acknowledgment of individual excellence; it's a celebration of cricket's rich history and the diverse talents that have shaped it.
The recognition of these legends at the ICC Cricket World Cup 2023 semi-final in Mumbai's Wankhede Stadium underscores the importance of their contributions to the sport​​​​.
In conclusion, the induction of Virender Sehwag, Diana Edulji, and Aravinda de Silva into the ICC Hall of Fame is not only a personal achievement for these stalwarts but also a moment of pride for cricket fans worldwide.
It reaffirms the enduring legacy of these players in the annals of cricket history and their role in inspiring future generations of cricketers.