Although while online slot games are still quite popular, the most recent trend to hit is playing live casino games. One of the most popular live casino games in India is Monopoly Live game by Evolution Gaming.
Live casino games are gradually becoming more popular in India. This means that players can now get the best of both worlds: the sensation of a real money casino games and the simplicity of playing from home.
---
Roll the Dice and Win Big on Monopoly Live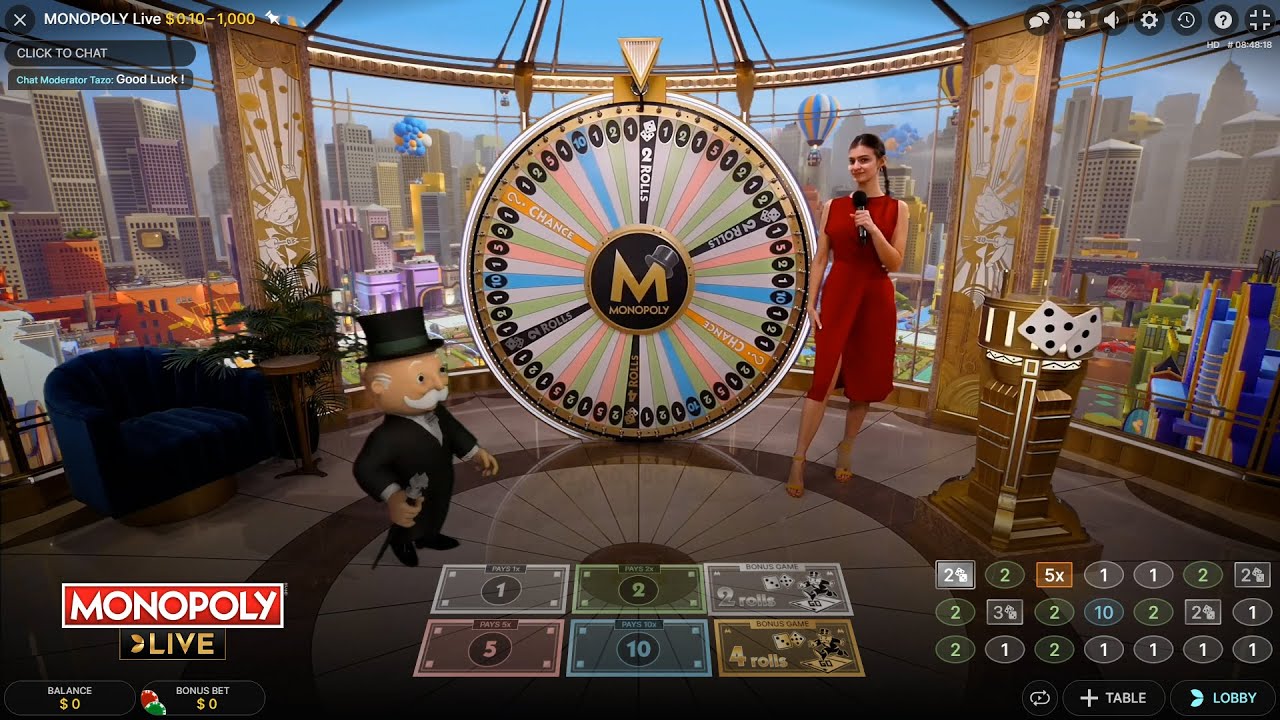 With the release of Monopoly Live, Evolution Gaming has developed a live casino real cash games experience that is really engaging. To start with, here's some game aspects you need to know:
1. Immersive Theme and Engaging Gameplay
Their top-of-the-line studios stream the game, featuring a half-circle room with a backdrop resembling the famous Monopoly Live board game.
The Monopoly wheel takes center stage in the middle of the screen, while the presenter and Mr. Monopoly himself are positioned to the right and left sides of the display, respectively.
The game boasts various captivating animations and sounds, with the dealer even throwing in some thrilling dance moves, all set to the beat of some upbeat music.
With a straightforward and user-friendly interface that makes it simple to manage the game and place bets, Monopoly Live game reaches the interesting combination between live and digital presentation.
However, Monopoly Live game is an incredibly enjoyable game that players can play on various devices, including mobile phones, tablets, and desktop computers.
At the same time, Evolution Gaming offers different streaming quality options to work with different devices and internet speeds. This makes it easy for players to watch the game anytime, anywhere.
2. How to Play Monopoly Live
Even if you've never played Monopoly Live game before, it's easy to get started. To start, players must place their bets by choosing which number they think the wheel will stop on.
The lowest you can bet per spin is ₹8.7, and the most you can bet per spin is ₹217,43Players can always choose how much to bet, and they can choose to the option to Bet on All to speed up the betting process.
3. Top Strategies for Playing Monopoly Live
There are two parts to playing Monopoly Live game: the main game and the bonus game.
The main game is like Evolution Gaming's Dream Catcher in that players bet on certain rolls and win money if the wheel stops on those rolls.
When you bet on the 2 rolls or 4 rolls segments, the bonus game starts. If the wheel stops on one of these, players are taken to a 3D version of Monopoly Live board game.
In the bonus game, Mr. Monopoly moves around the board and picks up cash prizes for the players. The number of squares he moves depends on the total of two dice rolls.
Properties, utilities, and free parking are the most basic prizes, while houses and hotels make some properties worth more.
When all of the rolls of the dice have been used up, the prizes are given out together with the original stake, and then the participants go back to the main game.
It is essential to have a reliable Monopoly Live betting strategy if you want your odds of winning at Monopoly Live game to be as high as possible.
4. Game Tips
In this section, we'll show you how to win big at Monopoly Live with 7Cric with some of the best tips and tricks. These tips will help you increase your chances of hitting the jackpot, from making smarter bets to using bonus features.
Choose 7Cric – The Perfect Place to Play Monopoly Live Game
Visit our Live Dealer section, and select Monopoly Live game to start playing. However, you can find other live casino games at 7Cric. We also provide a 75% Welcome Bonus up to ₹20,000 for any player who want to play these games.
Placing Your Bets
Choose which of the six segments on the board to bet on. Once you've made your selection, the host will spin the wheel. You'll have a few seconds to place your bets before the window closes.
Sit Back and Enjoy the Live Casino Gameshow
When the wheel comes to a stop and the flipper points to the number you've picked, your bet will be multiplied by that number. You'll also receive your initial bet back.
Bonus Rolls
If the wheel stops at any of the bonus rolls, the bonus round is activated. Only players who bet on the bonus rolls will be able to participate, while others can only watch.
Multipliers in Monopoly Live Tracker
Mr. Monopoly will create multipliers at the start of the game, before the dice are thrown.
Aiming for Doubles
Once the dice are thrown, Mr. Monopoly will move a number of steps on the board equal to the number rolled. If you roll doubles, you'll get an extra throw.
---
FAQs – Monopoly Live Game
Live casino games, such as Monopoly Live, provide players with a gaming experience that is not only immersive but also engaging, convenient, and one-of-a-kind.
Every player who enjoys playing at online casinos in India really ought to give Monopoly Live a go. This game's captivating concept, exciting animations, and user-friendly UI make it an absolute must-play.
1. Is Monopoly Live a fair game?
Yes, Monopoly Live is a fair game. The results of each spin are decided by a random number generator. Evolution Gaming is a well-known company that makes games and is licensed and regulated by a number of gaming authorities.
2. Is there a Monopoly Live strategy that works better?
Yes, there are different ways to play Monopoly Live game that can increase your chances of winning. These include betting on more than one number, using bonus features, and not spending more than you can afford.